---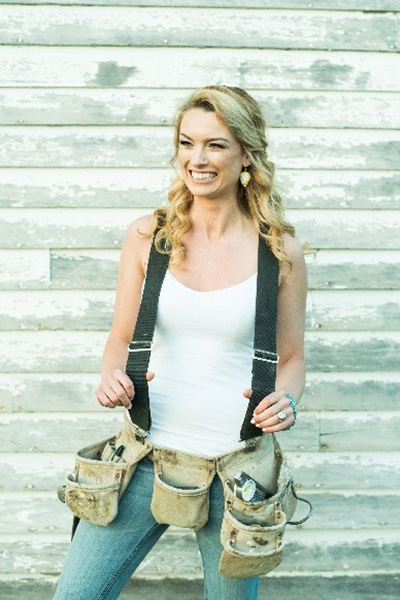 Kate Campbell
---
Session Synopsis: My Path To The Trades
Kate was an academic athlete with a 4.0 GPA but she wasn't sure what she wanted to do. At the time, her guidance counsellor thought she would definitely choose university but Kate had other plans. Through a series of circumstances, and very supportive parents, Kate enrolled in a WIST course. That course provided the tools she needed to make the trades her full time career. Kate is passionate about advocating for women in the skilled trades. She knows that the opportunities are endless and that the demand for the trades will only continue to grow. Kate currently runs her own successful contracting company.
---
Biography
Kate was raised in Georgetown, Ontario and has a passion for adventure and travel. She found her passion for carpentry after taking a skills course for women. She is a strong advocate for women in the skilled trades and speaks to students and apprentices across the country.
Her television career started at Holmes on Homes, where she worked on and off camera as an apprentice carpenter. Her jump to the outdoors was a result of a job offer from Paul Lafrance of Deck Wars, Decked Out, Disaster Decks and Custom Built.
Since joining Lafrance team, she has quickly become part of the family, and has no problem putting up with the boys and their shenanigans. Kate has been featured on HGTV's Home To Win, Island of Bryan and coming up, she will be guest contractor on a new HGTV's Family Home Overhaul.
Kate has founded her own scholarship program for women in the trades called Build Women Up. She is currently buying, renovating and flipping homes throughout Durham region.
Kate is the real deal when it comes to an authentic voice for women in the skilled trades. She lives the experience every day, on and off camera.